Developers BeLiving have finally delivered their formal planning application to Bromley Council. The proposed scheme sits behind Bromley North station and has now grown to 23 storeys. Residents need to take action if they want to object to the proposal.
Here is an image of BeLiving's proposal from the application documents. The view is from the South, ie facing Bromley North station from Tweedy Road and East Street: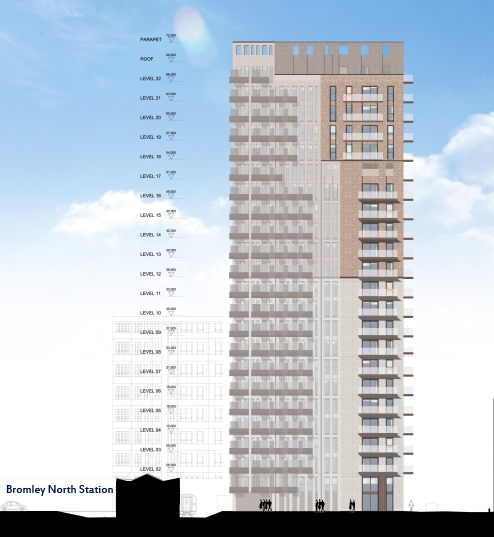 Outline of the proposal
"Demolition of existing buildings and redevelopment with a mixed-use, 23-storey, scheme comprising 215 Build to Rent apartments, flexible class B1/D1 floorspace, including class B1 meeting room space, car and cycle parking, associated access and public realm improvements"
Deadline for Objections
The deadline for objections is 29th Jan 2018.
How to Object
We encourage you all to read the documentation and send your objections via the LBB planning comments facility. The following link will take you straight there: 
https://searchapplications.bromley.gov.uk/online-applications/applicationDetails.do?activeTab=summary&keyVal=P158R9BTJL700
The planning reference is: 17/05790/FULL1
Alternatively, you can email your objection to the planning department at planning@bromley.gov.uk, giving the above planning reference number.
What to say in your objection letter
You might like to reference the following issues in your objection or please feel free to add any points that are important to you:
No tenant parking is provided which adds pressure to local on-street parking.
An extra 300+ tenants adds pressure to local transport services.
The impact on local utilities which are already struggling such as water pressure and sewage.
The massive scale of the proposal is wholly unfitting to the low-rise aspect of the local area.
Lack of sensitivity to the historic old town of Bromley and the Grade II listed station building.
The proposal represents piece-meal development of the Bromley North site. Also, the aggregate impact on infrastructure of the subsequent development of the rest of the site has not been considered at all.
The overbearing scale of the proposal would set a critical precedent for the future development of Bromley North. 
Please note that the developers have worked very hard to counter each possible objection, so it's worth reading their documents to know what evidence they are using to defend their proposal.
It has also been suggested that residents take photos from their residence and indicate how the proposed development will directly effect them. These photos can be sent in as part of your objection to the planning email address above and will be included in the committee documents when they come to make a decision.
Who makes the Decision?
Elected Councillors from across Bromley sit on the planning committees and they will be making the planning decision on behalf of Bromley residents. Although a number of the local Councillors have been extremely critical of this proposal, this does not mean the application will be refused, so written objections from residents are critical. The three Councillors representing Bromley Town Centre have already sent letters to many homes in the area and have specifically indicated that they are happy to receive notice of  residents' objections directly. As these Councillors are actively involved with the planning decision process it can only help to email them.a copy of your objection. Their contact details are as follows:
Plaistow & Sundridge Ward
Cllr Ellie Harmer – Ellie.Harmer@bromley.gov.uk
Cllr Peter Morgan – Peter.Morgan@bromley.gov.uk
Cllr Michael Turner – Michael.Turner@bromley.gov.uk 
Bromley Town Ward
Cllr Nicky Dykes – Nicky.Dykes@bromley.gov.uk
Cllr Will Harmer – Will.Harmer@bromley.gov.uk
Cllr Michael Rutherford – Michael.Rutherford@bromley.gov.uk